Crock Pot Holiday Dressing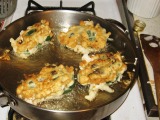 This great-tasting recipe will solve your oven space problem if you don't usually stuff your holiday turkey. It's a newspaper clipping recipe that I tweaked just a little and I wouldn't plan to make my future dressing any other way, even if I had three ovens!
Directions
Melt the butter in a skillet over medium heat and saute the onions, celery, mushrooms and the parsley until tender but not browned.
In a large mixing bowl, spoon the sauteed vegetables over the bread cubes and then add all the spices and herbs into the mix. Stir.
Mix the beaten eggs with the chicken stock and add this to the mix a little at a time as you stir carefully. You may not need every bit of the stock-egg blend so be careful to not turn your dressing into soup. You should still be able to discern the bread cubes but they should be fairly wet.
Transfer the mix into your crock pot (a large one is best) and cover.
Cook on High for an hour and then reduce to the Low setting and allow it to cook for four to eight more hours until it reaches the consistency that you like.
If you don't have the Paul Prudhomme seasoning you can use seasoned salt or, better yet, poultry seasoning.