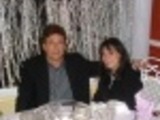 I won't kid you...this is not the time-consuming, tried and true method for preparing this French classic. However, it is great in a pinch, and will fool your guests into thinking you spent much longer in the kitchen than you did!
Directions
In saucepan, cook onions in butter until onions are tender. Add broth, water and Worcestershire sauce. Bring to boil. Simmer, covered, 25 minutes.
Spoon into 4 ovenproof bowls. Place piece of French bread in each bowl. Sprinkle with Parmesan cheese. Top with cheese slice. Broil until cheese melts.